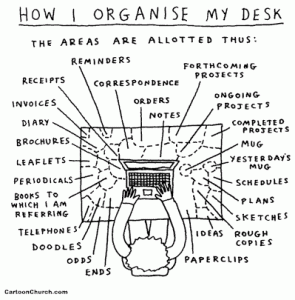 I write this sitting amongst the tools needed to do my job. What is my job?
The first thing that comes to mind is the paper I use. We were told the office would become paperless due to new technologies, yet I am surrounded by it as I need paper for reminders, references to quotes and even invoices that need filing. One of our highest quantity selling items is paper. Paperless offices I don't think so!
Then I have all those important business cards of customers and prospects alike. This make me feel valued as I know I have had meetings with these people. Again they are made of paper! I have a desk mat  so I can keep the important contact cards on view so I can look at them whilst working.
Of course I have my laptop, two screens, printer and telephone to communicate with. All of these things needed to carry out my job. By the way, ever lost your internet connection or printer won't work? It's like losing your right arm isn't it!  Thankfully I have Wessex Networks on hand to rescue me in such situations!  I then have the stapler and yes with staples to put that paperwork together, back to paper again. I have folders  to keep the paperwork in and presentation folders for the customers.
Pens! Wow do I have pens, in fact I am going to need a pen pot to keep them all in. I do also have things like a mug of coffee to keep me going and a copy of this week's Auto Express as I have a passion for cars which I must read when I finish this blog.
So what am I surrounded by? Stationery! And what's my job? Selling stationery with a passion to you.
What's on your desk? Can We Know Office supply you? Yes we can.
Social Share